DREAMER in Japanese /English
A novel about computers, romance and that voice in your mind. . .
ISBN: 9780966941449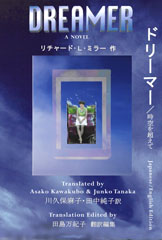 DREAMER Japanese Edition is at Amazon.com
812 pages. Japanese and English
Translated by Asako Kawakubo, Junko Tanaka and Makiko Tajima Asano. Final Translation edited by Makiko Tajima Asano.

"An enormously fresh spacetime horizon."--Alexander Eliot, author of The Universal Myths: Heroes, Gods, Tricksters, and Others (Meridian)
and The Global Myths, Exploring Primitive, Pagan, Sacred, And Scientific
.
"I enjoyed Dreamer greatly. the story has a haunting quality that kept me coming back for the next chapter and the next and the next. The atmosphere of the edge of the visual field possibilities was well done." --Charles T. Tart, Professor Emeritus, Psychology, University of California, Davis and author of States of Consciousness
and Body Mind Spirit: Exploring the Parapsychology of Spirituality.
"Exciting and fun! And it's got a hidden tie-in with real consciousness research." --Evan Harris Walker, author of The Physics of Consciousness: The Quantum Mind and the Meaning of Life
.